Regular price
Sale price
$15.00 USD
Unit price
per
Sale
Sold out
This scrub is specifically designed for your face but can be used any where on your body.
This sugar scrub contains: 
Turmeric which has the ability to add a natural glow to your skin. It contains antioxidants that aim to reduce dark spots, blemishes and hyperpigmentation. Turmeric also helps to reduce acne breakouts as it contains curcumin, a component that has  antioxidant properties. Turmeric is also an anti-inflammatory which can reduce  skin inflammation and heal your skin. Turmeric is also known to assist with Atopic Dermatitis, Psoriasis, to reduce dark circles, slow down signs of aging, and moisturize your skin. 
Olive Oil also had antioxidants that can form a layer of protection from free radicals (chemicals that can damage cells and  have been said to encourage the development of cancer). Olive oil also contains vitamins  A,D,E and K. Olive oil has an antibacterial impact on your skin and also serves as a moisturizer. 


Grapseed Oil has both anti-microbial and anti-inflammatory properties to assist to with combating breakouts and helps to reduce water loss. Grape seed oil can also have a positive impact on hyperpigmentation and is considered non-comedogenic, so it will not clog your pores. 


Tea Tree Oil has the ability to reduce oils in your skin and can help to minimize the size of your pores. Tea Tree Oil can also relive dryness, reduce itchy skin and helps to heal wounds. Terpenoids found in Tea Tree Oil help it to serve as an Ant-Inflammatory, Anti-fungal, and Antiseptic. 


This powerful yet gentle tool for your face can be used daily, every other day, or however you see fit.
Turmeric does have the ability to stain so you want to wipe it off of surfaces immediately upon contact. You can use this scrub before or after you apply your facial wash. 
This scrub can do some amazing things for your skin and add to the list of things you do to honor your outward and inward being. 
Be Well. 
Share
View full details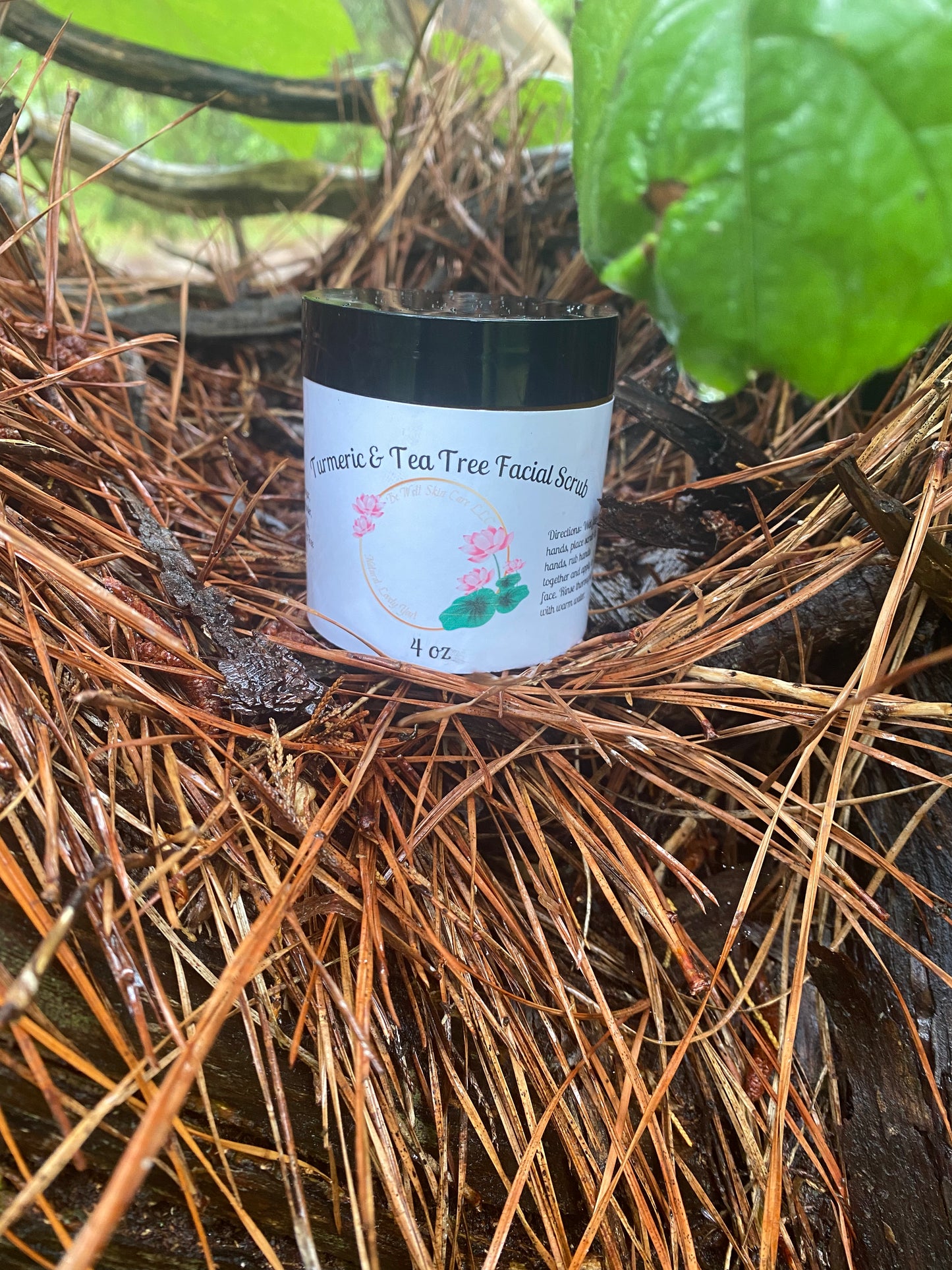 Concerns?

While we do not anticipate any dissatisfaction with the product, we are unable to accept returns on skin care products. All concerns will be addressed on a case by case basis at bewellskincarellc@gmail.com. Thank you for your support!